Passionate about enhancing peoples' lives through leveraging technology and process, Stoney founded StoneLaurel under the name Technology Project Management in 1994. Prior to establishing StoneLaurel, he was responsible for enterprise project management of large technology and operations projects at NCNB/NationsBank (now Bank of America), and served in the U.S. Air Force where he developed, implemented, and supported secure telecommunications systems worldwide. When he isn't leading StoneLaurel or developing new projects in the Charlotte area, Stoney loves to spend time with his wife and three children, read good books, and hike in the wilderness. A native of North Carolina, Stoney grew up on a farm and is still a country boy at heart.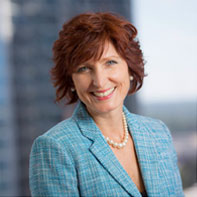 Christina Todd
Chief Strategy and Innovation Officer
Christina has served in a leadership role at StoneLaurel for the past 18 years, where she has specialized in program management, change management, strategy development, and process design. Utilizing her background in the Energy, Financial Services, Retail, and Manufacturing industries, she loves to use her experience to help others, whether it is finding the right person for a customer need or helping a teammate work out a problem. In addition to her management and consulting roles, Christina actively participates in a variety of volunteer activities, including with her local school district. She holds a BA in Financial Management and MS in Industrial Management from Clemson University. Christina resides in Huntersville, NC, where she loves to hike and spend time with her husband, Alan, and two sons.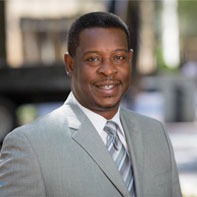 George A. Williams, Jr
Chief Integration Officer
George has served StoneLaurel from its inception, leading large-scale IT infrastructure deployments, product development initiatives, associate consolidations and real estate remediation efforts over the past 20+ years for a variety of national and international clients. Prior to joining StoneLaurel, George was a Vice President at Nationsbanc Services, Inc., where he managed initiatives in support of the growing company now known as Bank of America, most notably as part of the Technology Services and Management Consulting organizations. George is a very active community champion with a passion for helping to positively shape the lives of young people, and currently serves on the Executive Boards of the Beatties Ford Youth Academic & Athletic Association, Community Charter School and Big Brothers Big Sisters of the Central Carolinas in Charlotte, NC. He is also a serious sports fan and avid golfer. He holds a Bachelor of Science degree in Management Information Systems from DeVry Institute of Technology.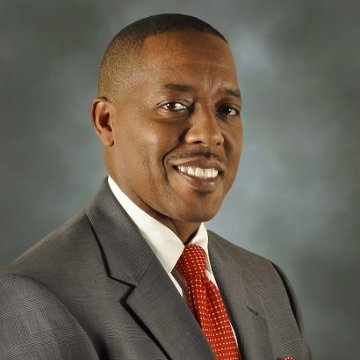 Derrick Reaves
Director
Derrick is Director of Application Enablement/Cyber Security/GRC at StoneLaurel Consulting, Inc. Mr. Reaves joined StoneLaurel in 2016, bringing more than 20 years of experience, spanning across all functions of Information Security, with specific expertise in managing enterprise risk, defining strategy and policy, threat monitoring, vulnerability management, security architecture, implementing security solutions, and operating security teams. He has planned and led multi-year programs for Fortune 100 clients that spanned IT service pillars which include Operations, Development, Infrastructure, Support, and Security. Prior to joining StoneLaurel, Derrick served as the Director of Engineering at TIAA-CRE. He was instrumental in leading the senior leadership responsible for developing the strategic direction and programs that drove the company's engineering platform decisions and end-point security direction. Mr. Reaves also managed successful migrations of external web facing customer applications designed to modernize, stabilize, & reduce security vulnerabilities. Before TIAA-CREF, Mr. Reaves served as the Senior Manager/Infrastructure Business Strategy Worldwide for Walmart in Bentonville, AR. where he successfully managed the middleware platforms, Level 3 engineering, and the end point messaging deployments for all store locations both stateside and internationally covering 8,000+ locations. Derrick earned his Bachelor of Science in Computer Science from North Carolina Agricultural and Technical State University, a Master of Business Administration from Webster University, a series of Cyber Security Certificates from Rochester Institute Technology and a Cyber Security Risk Management Certification from Harvard School of Business. In Addition to extensive IT skills, he has a passion for his family, his fraternity, Kappa Alpha Psi, and ITSMF, where he serves as the member of the Program Committee and is a Senior Fellow with American Leadership Foundation.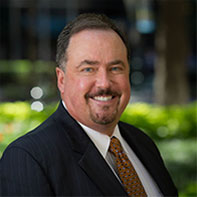 Ted N. Shelton, CDP
Global Accounts Director
A seasoned technology leader with a deep knowledge of consulting services, Ted has over 25 years of experience in key program management, senior operations management and executive level positions at both the regional and corporate levels. Before joining StoneLaurel's executive leadership team in 2009, Ted served in a senior leadership capacity at four technology and business consulting firms over the course of his career, including as founder and CEO of Technology Resource Services. He is passionate about working with clients to develop unique solutions for their needs and building trust-based relationships with business and technology leaders. Ted holds a B.S. in Management Information Systems from Gardner Webb University and is a Certified Data Processor (CDP). He lives in Charlotte, NC with his family, where you may find him golfing, fishing, volunteering, or just relaxing at the beach.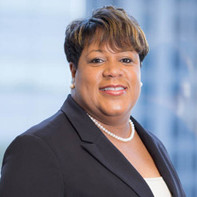 Penney Patterson
Human Resources Executive
Penney Patterson joined StoneLaurel in 2008 and she serves as Talent Development Executive. She is responsible for all areas of Human Resources for the firm. She makes sure that we secure the best and brightest talent and our consultants receive best-in-class benefits. Prior to joining StoneLaurel, she was an Account Executive with AT & T Advertising & Publishing and also owned a Nationwide Insurance Agency. Penney has extensive knowledge of both the insurance industry and employee relations fields. She is a member of the Board of Directors for Mid State Magic Sports, Inc. which is a non-profit youth basketball organization, where she serves as the Business Operations Manager and basketball coach. She is very active in her church, community and enjoys spending time with her husband and two beautiful children. Penney holds a B.S. in Business Administration from High Point College.
Fredricka Yellets
Executive Administrator
Fredricka is a native of Charleston, SC and is the glue that holds the StoneLaurel office together. She has been with the firm since 2011 and is the engine behind the scenes that ensures things run smoothly and our clients get the attention they deserve. Prior to her joining StoneLaurel, Fredricka owned and led a business where she taught children, of every socioeconomic and ethic background, to read and has spent time teaching in the public school system. Fredricka is also very involved in the community and currently sits on the board of United Negro College Fund. She can also be found setting up computer labs with organizations such as The Plaza House and Supportive Housing Community; or volunteering at the Safe Alliance, Big Brothers and Big Sisters, retirement homes, American Diabetes, or the local Men's Shelter. She serves actively in church activities and her family tops her priority list. She is often enjoying quality time with her husband and her three wonderful sons, watching football or reading a good book.
Victoria Levy
Controller
Victoria Levy comes to us with an eclectic array of experience and talent that will all serve her well in the Controller position here at StoneLaurel. After completing her doctorate studies from the College of Veterinary Medicine at Tuskegee University, she served 8 and a 1/2 years as a Veterinary Corps Officer in the United States Army in charge of the Food Safety and Security Inspection program and operated a veterinary treatment facility on various installations with all four branches of the military. After completing her military scholarship obligation and serving abroad, she returned to Atlanta Georgia and served as a Compliance Trainer and Special Projects Coordinator with the Atlanta Housing Authority in their Real Estate Management Division. She completed additional studies to earn a Master of Business Administration degree as well. She was fortunate enough to find an occupation that allowed her to blend her management and leadership training from the military, her compliance and reporting skills from the public housing arena, with her veterinary education, and served as a Subject Matter Expert and Sales Consultant for Hill's Pet Nutrition, Inc., a globally recognized leader in product research and development for small animal nutrition. In addition to her daily sales consulting duties covering six states in the southeast, Victoria also became a corporate trainer for the company which required her having to travel back and forth to the Hill's Corporate Office in Topeka, Kansas to train New Hires and other company personnel monthly on small animal nutrition, veterinary practice management, and sales protocols. After 12 and a 1/2 years of extensive travelling via company car and plane, she decided she wanted to leave the Sales Industry and have a more stationary job. Not wanting to go back into veterinary medicine to practice nor move to Kansas to assume the Training Manager position there, she completed the certifications for becoming a Professional Bookkeeper and Quickbooks Specialist and entered her 4th career as an Accounting professional; quickly climbing the ranks to become a Controller for Crimson Management, LLC, a property management company with both government-subsidized and conventional apartment communities in surrounding metro-Atlanta cities. Victoria is a very new resident of Charlotte having just moved here in October of 2019. And when she is not busy crunching numbers for StoneLaurel, she enjoys tending to her menagerie of indoor plants, catching up with long-distance family and friends on the phone, watching court tv along with various Law & Order type shows, playing Candy Crush, and spending time with her fiancé going to movies, dinner, and Carolina Panthers games because he is the ultimate Super Fan. Together, they have a blended family with her two sons and his one, who are all in their late 20's. Because each son lives in a different state, getting everyone together for family gatherings and holidays is a real treat because she likes to cook too.